5 Tips & Tricks for Decluttering Your Home This Spring
March 29, 2022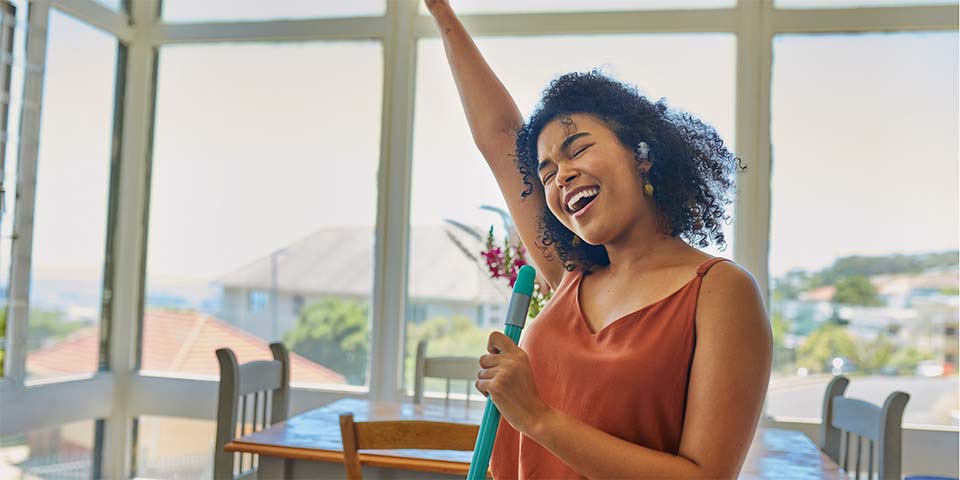 We love spring because it signals a fresh start—and, if you're anything like us, a fresh start means getting our homes in order. Living in the era of free two-day shipping, it's so easy for us to accumulate clutter, even if we think it's serving us. But do you really need an entire cabinet devoted to cleaning products or a counter lined with kettles and coffee makers?
If you're ready to make your home look and feel more open, clean and inviting, check out these five easy spring cleaning tips.
1. Make a Checklist…and Stick to it!
Before you start throwing stuff away left and right, make a simple checklist of categories of things you think you may have a surplus of. These usually include items like tupperware, kitchen appliances, clothes, shoes and toiletries. Be mindful as you make this checklist, as it's important to stick with it. 
As you begin your tidying process, simply follow your list. Keep in mind that the goal isn't to get rid of every item in each category but rather to end up with less of what you don't need—and more space for your essentials.
2. Avoid the Sunk Cost Fallacy
The sunk cost fallacy is the idea that because you've spent money on something means, you have to keep it around.1 Sure, at one point, you thought you wanted that end table, but now it just takes up space in your entryway. Avoid the sunk cost fallacy by reminding yourself that an object's cost doesn't equal its value. For example, your favorite thrift store coat may have cost significantly less than your end table, but you wear that coat every day, while the end table is just accumulating clutter and dust.
3. Make Your Own DIY Cleaner
Reduce plastic waste and water pollution by making your own all-purpose cleaner. It's simple, affordable and doesn't end with us throwing away another plastic spray bottle or using harsh chemicals that can end up in our water systems.2 All you need is an empty reusable spray bottle, water, white vinegar, a few drops of lemon-scented essential oil and two to three sprigs of rosemary. Simply combine one part vinegar and one part water with the lemon oil and rosemary, then let steep for about a week. We recommend using Primo® reverse osmosis purified water to avoid adding any bacteria or heavy metals to your cleaner.
Be sure to avoid using this cleaner on granite countertops and use caution when applying it to stainless steel, as the acidity may cause permanent etching or discoloration.3
4. Kondo Your Space
While you don't have to go full Mari Kondo on your home, here are a few tried and true tips from the tidying expert:4

Imagine your ideal space and work towards creating it.

Keep items that spark joy and get rid of those that don't.

Tidy by category, not by space.

Give thanks to those items that no longer serve you.
These simple suggestions can help you declutter your home with grace and gratitude and help you discover which items mean the most to you.
5. Upgrade to a Primo® Water Dispenser
Most of us have an unnecessary number of appliances taking up space on our kitchen counters. Consider replacing your current coffee or tea setup with a Primo® hTRIO Water Dispenser. Not only does the hTRIO dispenser deliver delicious, purified water on demand, but it also brews your favorite single-serve beverage pods. A Primo® water dispenser can also free up space in your fridge or pantry by eliminating the need for disposable water bottles.
Pet lovers can reduce even more clutter with the Primo® Water Dispenser with Pet Station, which includes a removable, dishwasher-safe pet bowl. No more tripping over pet water bowls in your kitchen! Plus, it's important for you and your furry friends to stay hydrated this spring. 
Resources:
1 Ronayne, David; Sgroi, Daniel; and Tuckwell, Anthony. (2021, July 15).
How Susceptible Are You to the Sunk Cost Fallacy? The Harvard Business Review. Retrieved from:
https://hbr.org/2021/07/how-susceptible-are-you-to-the-sunk-cost-fallacy
Harvard University. (2013, September 11). Water Pollution. Harvard T. H. Chan School of Public Health. Retrieved from https://www.hsph.harvard.edu/ehep/82-2/
3 Santanachote, Perry. (2020, December 2). 9 Things You Should Never Clean With Vinegar. Consumer Reports. Retrieved from: https://www.consumerreports.org/cleaning/things-you-should-never-clean-with-vinegar-distilled-white-vinegar-a3336471803/
4 About the KonMari Method™. KonMari Media, Inc. Retrieved from: https://konmari.com/about-the-konmari-method/