7 Simple Sustainable Changes to Make in Your Life
April 14, 2022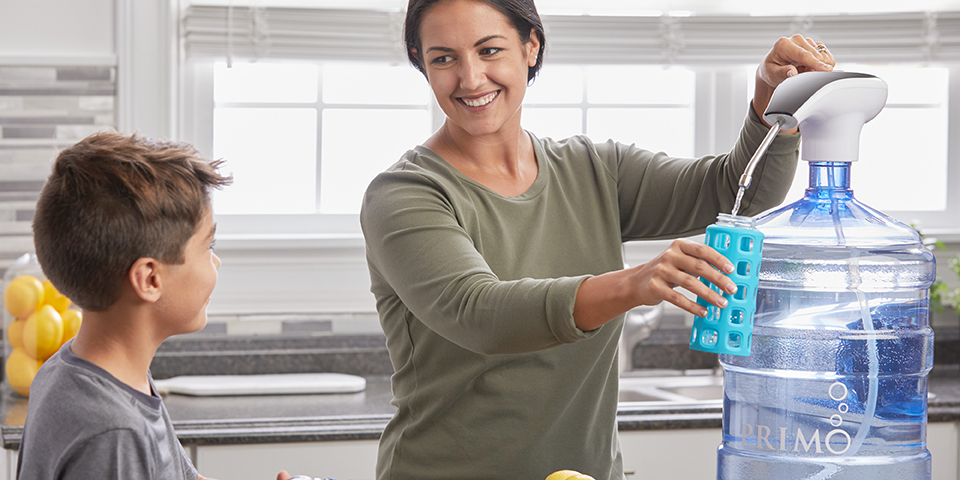 Let's face it: we all want to protect the environment, but being a human inherently has some impact on our planet. That said, you don't have to completely alter your life to make a meaningful difference. By making these 7 easy changes, you can start minimizing your environmental impact today. (Who knows—you may be surprised at how much good you're already doing.)
1. Buy Local Food
Did you know that many of the food items you buy at the grocery store travel over 1,500 miles to reach your plate?1 By opting to purchase your food locally, you can reduce your carbon footprint significantly since locally-sourced foods don't require long trips overseas or across the country. Your produce will also be fresher, and you'll keep more money in your community.
2. Donate, Don't Toss
If you're embarking on a major spring cleaning session this year, make sure to set a few boxes aside for donating unwanted items. By re-housing everyday items such as clothes, furniture, electronics and bikes, you not only prevent perfectly usable goods from going into landfills but also help those in need. Plus, you may be able to receive certain tax benefits.
If you're looking for places to take unwanted items, check with your local churches, community centers, thrift stores, schools and nonprofit organizations.
3. Recycle Like a Pro
Recycling is one of the easiest ways to reduce your carbon footprint: it's widely available, low-to-no-cost, and keeps a variety of materials out of landfills. Recycling also lowers greenhouse gas emissions by reducing the need to extract raw materials to create new products.2 In fact, it takes 95% less energy to make aluminum cans from recycled aluminum scraps than to make them from raw materials.
While recycling can be a great way to reduce your carbon footprint, make sure you're not being a "wishful recycler"—i.e., someone who wants to do good but interferes with the process by trying to recycle non-recyclables—by reading up on your local recycling company's policies. The EPA's website also provides general information on what you can and can't recycle.3
4. Cut Your Food Waste
Did you know that Americans toss out an average of 400 pounds of food per person per year, roughly equivalent to 30-40% of our national food supply?4  Wasted food is the single largest material that winds up in our landfills, yet 10.5% of U.S. households are considered food insecure. As for what it does to our planet, food waste drastically increases greenhouse gas emissions—namely methane, the most harmful to our ozone layer.
So what can you do to curb your food waste? Here are a few suggestions:
Compost

leftover egg shells, vegetable peels, coffee grounds and even yard debris.

Grocery shop mindfully

by purchasing only what you need for the week.

Know your labels

. Did you know that a "Best if Used By" label indicates the date at which a product will be at its peak flavor and quality, and not when it expires? After this date, it can still be enjoyed for some time as long as it doesn't seem spoiled.

5
5. Drive Less
In 2019, America's transportation sector accounted for nearly 30% of our total greenhouse gas emissions. Though you may think ships, planes and trucks made up the majority of this pollution, passenger vehicles were responsible for a staggering 58% of total emissions.6 
If you don't live in a city, it can be difficult to drive less. Many Americans live in rural areas or suburbs without bike lanes and public transportation, and those that do live in urban areas often find it difficult or dangerous to commute by bike. 
So instead of feeling the need to completely ditch your car, reduce your greenhouse gas emissions by consolidating your trips. For example, stop by the grocery store on the way home from the gym or try carpooling with coworkers. In addition to minimizing your environmental impact, making fewer trips throughout your day will save you time and money while giving you peace of mind.
6. Use a Reusable Water Bottle
86% of all disposable water bottles used in the U.S. are sent to landfills instead of recycling facilities.7 In fact, disposable beverage containers make up 14% of all materials found in municipal landfills. By making the simple decision to use a reusable water bottle, you can help reduce the amount of plastic that is not only disposed of but created. 
Pro tip: a reusable stainless steel cup can be used for both water and coffee, reducing even more waste and eliminating the need to carry multiple drink containers. 
7. Drink Bulk Water
Speaking of water, drinking bulk water can help further reduce our global reliance on single-use plastics and prevent thousands of water bottles from ending up in our landfills and oceans. Each Primo® five-gallon water bottle is refillable, reusable and recyclable, saving up to 1,100 single-serve plastic bottles over the course of its lifetime. Plus, a Primo® water dispenser also encourages drinking more water (up to 25% more!), helping you enjoy a healthy, sustainable lifestyle. 
Now through April 30, 2022, you can save 30% on select Primo® water dispensers when you use code EARTH30 at checkout. Plus, all dispenser purchases come with a free reusable water bottle gift so you can take your Primo® water everywhere you go.
National Center for Appropriate Technology. (2008).

Food Miles: Background and Marketing

. Retrieved from https://attra.ncat.org/htmlpub/food-miles-background-and-marketing/

N.C. Department of Environmental Quality.

Recycling and Climate Change

. Retrieved from https://deq.nc.gov/conservation/recycling/recycling-climate-change

U.S. Environmental Protection Agency. (2013, April 17).

How Do I Recycle?: Common Recyclables

. Retrieved from https://www.epa.gov/recycle/how-do-i-recycle-common-recyclables

U.S. Food and Drug Administration. (Last updated 2021, November 19).

Food Loss and Waste

. Retrieved from https://www.fda.gov/food/consumers/food-loss-and-waste

U.S. Food and Drug Administration. (Last updated 2022 February 17).

How to Cut Food Waste and Maintain Food Safety

. Retrieved from https://www.fda.gov/food/consumers/how-cut-food-waste-and-maintain-food-safety

U.S. Environmental Protection Agency. (2015, August 25).

Fast Facts on Transportation Greenhouse Gas Emissions

. Retrieved from https://www.epa.gov/greenvehicles/fast-facts-transportation-greenhouse-gas-emissions

Container Recycling Institute.

Bottled Water

. Retrieved from https://www.container-recycling.org/index.php/issues/bottled-water