Reduce Your Plastic Footprint With These 5 Upcycling Ideas
April 20, 2022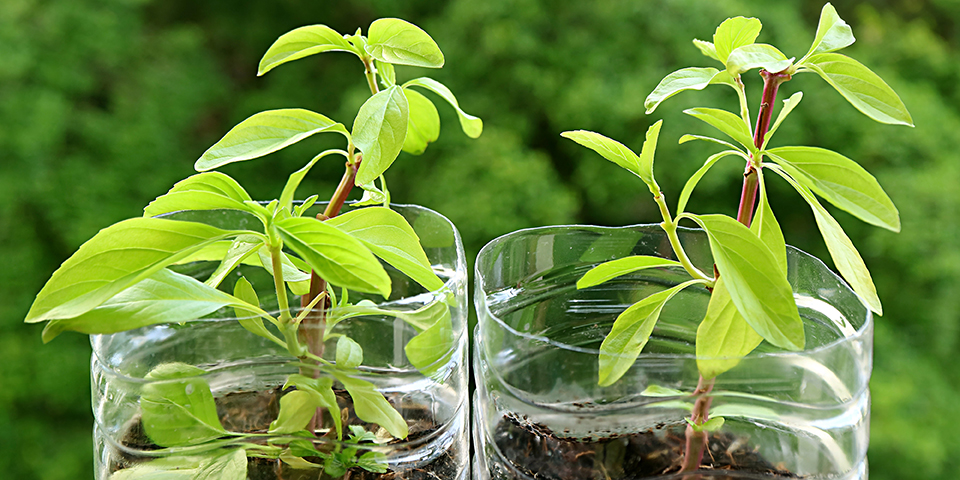 Plastic is everywhere, from our landfills to our oceans and even our municipal drinking water. While it can be an extremely versatile and durable material, plastic presents a few critical issues: it takes an extremely long time to biodegrade; it is derived from non-renewable resources, like crude oil and natural gas; and it breaks down into smaller pieces over time, making its way into food chains and ecosystems. 
But it's plastic's durability and versatility that also makes it such an easy and convenient material to be reused. While most of us are overwhelmed at the idea of living a fully plastic-free lifestyle, you can significantly reduce your plastic footprint by repurposing your containers into fun DIY projects.
1. Upcycled Watering Can
Most laundry detergent bottles are made of a type of plastic called high-density polyethylene (HDPE). While over 1 billion HDPE containers are created each year, less than 30% are recycled.1 Though they may not look like it at first glance, plastic laundry detergent bottles make the perfect watering cans. Think about it: they're durable (hence the "high-density" in their name), they have a handle and most hold anywhere from 90 to 160 fluid ounces. To turn your empty detergent bottle into a brand-new watering can, simply remove the label, rinse it out thoroughly and drill or punch 3-6 holes in the cap. 
2. DIY Bird Feeder
Instead of recycling that water or soda bottle, turn it into a bird feeder in just a few easy steps. Here's what you'll need:

An empty plastic bottle with cap (a 20-ounce or larger works best)

1-2 long-handled wooden spoons

Small screw-eye hook (steel or brass)

Twine

Birdseed
After rinsing your bottle thoroughly, drill or cut a hole on each side large enough to insert one of your wooden spoons through. (If your bottle is large enough, you can insert two spoons running perpendicular to each other, one above the other.) Next, insert the handles of your spoons through the holes in your bottle and fill your bottle with birdseed. Finally, screw your hook into the bottle cap and tie one end of a 1-2 foot piece of twine to it. You're now ready to hang your new bird feeder.
View this post on Instagram
3. Meal Prep Containers
While this idea is admittedly not a DIY project, it is an incredibly easy (and useful) way to save money and reduce plastic waste. Instead of throwing away your takeout containers the next time you eat out, save them for future use. Many of these containers are food-grade and are the same quality as those sold as "meal prep containers" on Amazon and other online retailers. 
However, even food-grade plastics will degrade over time, so be sure to hand-wash your containers and avoid microwaving them to extend their life and prevent food contamination.2
4. Plastic Bottle Vertical Garden
A plastic bottle hanging garden is a chic and functional alternative to a pricey hanging garden kit—plus it reduces the energy required to recycle your beverage containers. Here's what you'll need:
Durable plastic bottles with caps (again, 20 ounces or more is preferable)

Fishing line or twine

Box cutter or X-ACTO knife

Soil

Flowers or small plants
After rinsing your plastic bottles, grab your box cutter or X-ACTO knife and carefully cut out a large oval, roughly 6 inches by 3 inches. Next, make tiny holes on either side of your bottle and thread a few foot-long pieces of fishing line or twine through these holes. (Alternatively, you can wrap your line around each side of your bottle to secure it.) Finally, make a few tiny holes on the underside of your bottle for drainage and fill your bottles with soil and your plant of choice. Feel free to connect as many bottles as you'd like to complete your hanging garden.  
View this post on Instagram
5. Upcycled Succulent Planters
Speaking of gardens, one of the easiest and most rewarding DIY projects you can undertake is an upcycled succulent planter. All you need is a few plastic bottles of varying sizes and a box cutter or X-ACTO knife. Simply cut off the bottom of your bottle, poke a few holes in the base, fill it with soil and your favorite succulent, and voila, you have a cute little succulent planter.
Pro tip: repeat the first step with a larger bottle but don't poke any holes in its bottom and you now have a drip tray for your planter.
Bonus: Drink Bulk Water
In addition to upcycling your plastic containers, switching to bulk water can minimize your plastic footprint tremendously. Each Primo® five-gallon water bottle saves up to 1,100 single-serve plastic bottles over the course of its lifetime, making it an obvious choice for those looking to lead a more sustainable lifestyle. Primo® water also uses a reverse osmosis purifying process to significantly reduce or eliminate the presence of heavy metals, parasites, and other harmful contaminants to help keep you and your family safe and healthy.
Now through April 30, 2022, you can save 30% on select Primo® water dispensers when you use code EARTH30 at checkout. Plus, all dispenser purchases come with a free reusable water bottle gift so you can enjoy Primo® water everywhere you go!
Environmental Protection Agency. (2017, September 7).

Facts and Figures about Materials, Waste, and Recycling.

Retrieved from https://www.epa.gov/facts-and-figures-about-materials-waste-and-recycling/containers-and-packaging-product-specific

Zanolli, Lauren. (2020, February 18).

Are Plastic Containers Safe for Our Food?

The Guardian. Retrieved from https://www.theguardian.com/us-news/2020/feb/18/are-plastic-containers-safe-to-use-food-experts#:~:text=Most%20food%20containers%20%E2%80%93%20both%20takeout,)%20or%20polypropylene%20(5)