10 Creative Ways to Get Your Family Moving This Summer
May 12, 2022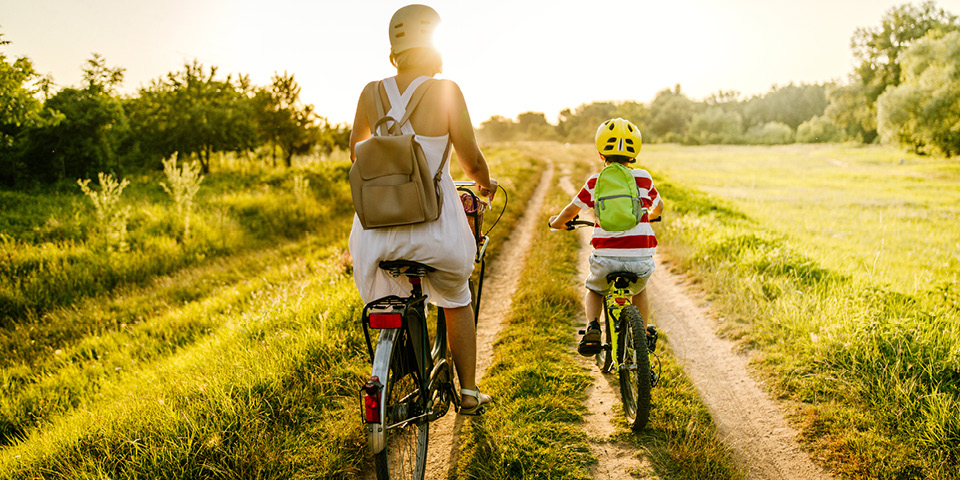 Warmer weather and longer days make summer the perfect season for outdoor activities. But, if you're a parent, you know the dog days of summer can also be an opportunity for your family to spend time binge-watching Netflix or glued to the computer. Help your family stay healthy and happy this summer with this list of fun outdoor activities.
1. Take a Hike
Pack a backpack with snacks, sunscreen and plenty of water and take a hike this summer. From toning muscle to reducing stress to improving cardio, hiking has a multitude of benefits your whole family can enjoy.1 
Don't have a hiking trail nearby? You don't have to live in the mountains to go hiking; a greenway or even a large park should give your crew enough space to spend the day exploring the outdoors together. 
2. Play Yard Games
Yard games are perfect for kids because they are active, performed outside and don't require a ton of focus. Because they involve short bursts of intense activity, they are ideal for short attention spans. Here are a few tried-and-true yard games to play with your family this summer:

Frisbee

Basketball

Tag

Jump rope

Hopscotch
3. Plant a Garden
Looking for an activity that is both active and educational? Planting a garden is a great way to teach your kids how food is grown while getting down and dirty. And since research shows that the bacteria present in soil can help strengthen childrens' immune systems,2 be sure to let your little ones really dig in. 

4. Spend a Day at the Pool
Pack sunscreen, towels and a few snacks and head to your local swimming pool for a fun-filled afternoon in the sun. While it may be tempting to spend the day lounging with a book, make an effort to join your kids in the pool. Together, you can enjoy playing games like "Marco Polo," hold impromptu swim contests and spend time just being silly. Plus, since pools provide resistance, you'll also build muscle and get a good cardio workout.3
5. Go Geocaching
Geocaching is a great way to teach your kids about trust, teamwork and problem solving while staying physically active. It can also introduce your family to places within your own town you've never explored before. 
Geocaching is an outdoor activity where participants use a GPS-enabled device to look for different "caches"—containers hidden in specific locations marked by coordinates. If your family has never been geocaching, don't worry—all you need to get started is a smartphone, a GPS app and a desire for adventure. 
6. Dance During Commercial Breaks
You don't need to completely give up TV this summer to stay healthy. Instead, make it a family rule that whenever you do watch a show together, everyone has to stand up and dance during the commercials, or every 30 minutes. The sillier the dance moves, the better!
7. Sign Up for a Race
Sign up for a local 5k or fun run and train together as a family. On race day, focus on cooperation rather than competition. If a member of your family is struggling to keep pace, check in with them. They may say it's okay to run ahead, or they may ask that everyone walk together for a while. By foregoing the emphasis on time in favor of simply making sure everyone finishes the race, you'll reinforce a sense of unity and cooperation that your family can apply to future challenges.

8. Host a Backyard Dance Party
Hosting a backyard dance party is the perfect way to bring your family closer together while also getting a good workout. There are no props required for this activity except some good shoes (or soft grass for bare feet), upbeat music and a willingness to be silly. 
Not sure which dance moves to bust out? For a good cardio session, try incorporating a mix of Zumba and pop. These genres tend to be fast-paced and repetitive, meaning they're easy to remember and result in a good sweat. If you have younger ones at home, check out this kid-friendly Disney Mix.
9. Go on a Bike Ride
From a short ride around your neighborhood to a full day on the greenway, a bike ride can easily be tailored to meet any time frame. Before hopping on your bikes this summer, follow these easy tune-up tips to make sure your family is ready to ride:

Grab a rag, a toothbrush and a bucket of soapy water and scrub your bike chain and

derailleurs

. Rinse your bike off with a garden hose and dry it thoroughly.

Apply a few drops of bike lube across the top and bottom of your chain, then run your gears up and down. (You can do this while riding your bike or while it's suspended.) Use a clean, dry rag to wipe any excess lube.
Repeat this process after every couple of bike rides and you can keep your bikes looking clean and running smooth all summer.
10. Stay Hydrated with a Primo Water Dispenser
Drinking plenty of water helps burn calories, reduces the risk of heat-related illnesses and even improves mood. Keep your family hydrated wherever you go this summer with a Primo Portable Water Dispenser. Simply attach your dispenser to the top of a 3- or 5-gallon Primo water bottle, pump the handle and enjoy great-tasting water! 
Right now, you can get our manual pump for just $19 and our rechargeable pump for just $25. All dispenser pump purchases also include a coupon for free Primo water. 
Shop Portable Water Dispensers  
Corliss, Julie. (2016, Sept. 28.)

Health Benefits of Hiking: Raise Your Heart Rate and Your Mood

. Harvard Health Publishing. Retrieved from https://www.health.harvard.edu/blog/health-benefits-of-hiking-raise-your-heart-rate-and-your-mood-2016092810414

Roshay, Amber. (2020, April 1.)

Wondering What to Feed Your Kids? Try a Little Dirt.

Let Grow. Retrieved from

https://letgrow.org/benefits-of-soil-microbes/

Lindberg, Sara. (2020, April 20.)

Swimming vs. Running: Which One Is Right for You?

HealthLine. Retrieved from https://www.healthline.com/health/swimming-vs-running#advantages-of-swimming