The 5 Best Summer Sun Safety Tips
July 5, 2022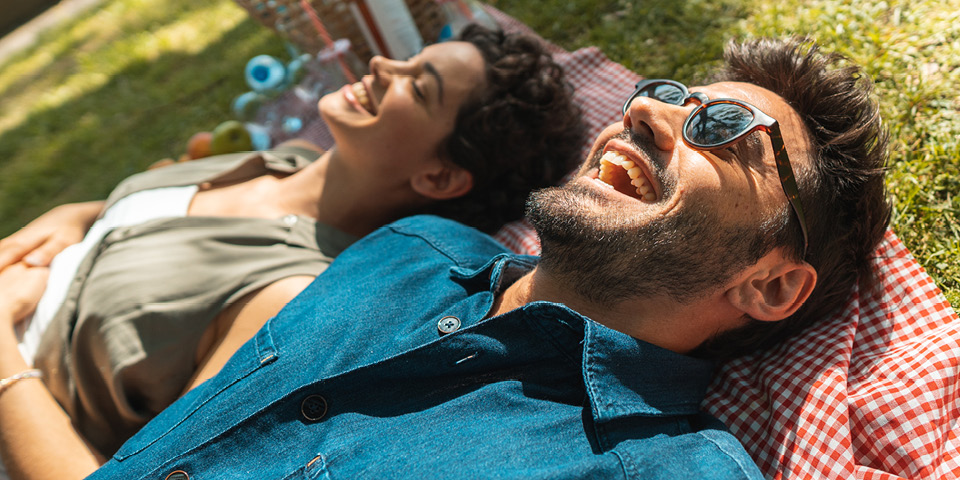 Nothing says summer like getting outside and soaking up the sun. But before you go enjoy those rays, make sure you protect yourself, so you spend the summer sun-kissed and not sun-scorched. 
Why Sun Safety Matters
Sunlight is great for our bodies and our brains, helping us produce essential Vitamin D as well as maintain our moods and sleep cycles. Yet, sunlight is also made up of ultraviolet (UV) rays, which can cause sunburns, wrinkles, other signs of aging and even skin cancer.1 Each year in the U.S., there are over 1 million new cases of skin cancer, much of which can be linked to too much sun exposure.2 Even still, many of us are guilty of going out without a second thought for sun protection.
Luckily, staying safe in the sun isn't hard, especially when you follow these top five summer sun safety tips:
1. Stay Sunscreen Smart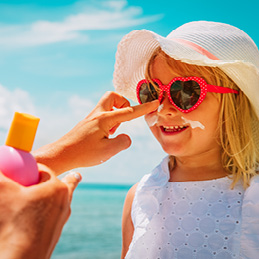 Sunscreen is your number one sun savior! Many people only apply sunscreen on particularly sunny days or when they're about to go sunbathing, but dermatologists actually recommend wearing a sunscreen with an SPF (sun protection factor) of at least 30 any time you plan to be outside during the day, even for short periods or when it's cloudy.2 Yep, even on cloudy days, we can still be exposed to the damaging effects of UV rays.1
Be sure to apply your sunscreen properly too. Apply it 15 to 30 minutes before sun exposure and re-apply every two hours or after heavy sweating or being in water (even when the sunscreen says it's waterproof—better to be safe than sunburnt).1 Pay careful attention to your most exposed areas of skin as well as your most sensitive skin, including your face, ears, nose and neck.3 Even if you have a dark skin tone and don't often burn, this will still help lower the risk of skin cancer and reduce the aging effects of the sun.
2. Sip All Day Long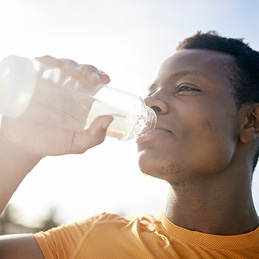 If you do get sunburned, get out of the sun as soon as possible and start drinking plenty of water. As your skin naturally heals,
 fluid is pulled to the surface of your skin, so it's important to drink extra water to help you heal faster and keep the rest of your body hydrated. 
Plus, it's generally a good idea to drink more water in the summer. After all, skin damage isn't the only risk of being out in the summer sun—heat illness and heat stroke are also especially dangerous this season.4 Always keep your reusable water bottles filled and ready, or better yet, bring a portable Primo water dispenser along on your next summer adventure.
3. Search for the Shade
Naturally, shady areas are best if you plan to spend a long time lounging outdoors, especially if you have young children. Because their skin is still so sensitive, babies under 6 months old shouldn't use sunscreen. Instead, keep them out of direct sunlight as much as possible and dress them in sun-protective clothing.5
4. Sport Some Sunnies
Don't forget your eyes. While out in the sun or driving on sunny days, put on a pair of UV-filtering sunglasses. Just like your skin, your eyes are susceptible to damaging UV-rays, but wearing appropriate sunglasses will help prevent sun-related eye problems like cataracts, cancer and corneal sunburn—yes, even your eyes can be sunburned!3
5. Shield Your Skin
Of course, physically blocking the sun with clothing is good assurance against sun damage. Whenever possible, wear sun-protective clothing like long sleeves, pants, long skirts and wide brimmed hats. Don't worry, you don't have to overheat! Choose flowy, lightweight natural fabrics and you'll still stay cool while staying out of the direct sun. 
Have Fun in the Sun with Primo
With these tips in mind, you're ready to have carefree fun in the sun! As always, remember to stay well-hydrated with the help of Primo water and water dispensers. Having refreshing water at the ready will help keep you cool and happy all summer long. 
1Wu, D. (2018, June 21). Sun Protection: Appropriate Sunscreen Use. Harvard Health. Retrieved from https://www.health.harvard.edu/blog/sun-protection-appropriate-sunscreen-use-2018062114114 
2Mayo Clinic. (n.d.). Sun Protection . Mayo Clinic Health System. Retrieved from https://www.mayoclinichealthsystem.org/locations/eau-claire/services-and-treatments/dermatology/sun-protection 
3King, G. (2021, August 6). 3 Sun Safety Reminders. Mayo Clinic Health System. Retrieved from https://www.mayoclinichealthsystem.org/hometown-health/speaking-of-health/3-sun-safety-reminders 
4Mayo Foundation for Medical Education and Research. (2022, June 25). Heatstroke. Mayo Clinic. Retrieved from https://www.mayoclinic.org/diseases-conditions/heat-stroke/diagnosis-treatment/drc-20353587 
5Harvard Medical School. (2021, February 15). The Science of Sunscreen. Harvard Health. Retrieved from https://www.health.harvard.edu/staying-healthy/the-science-of-sunscreen