How to Encourage Family Fitness
July 10, 2021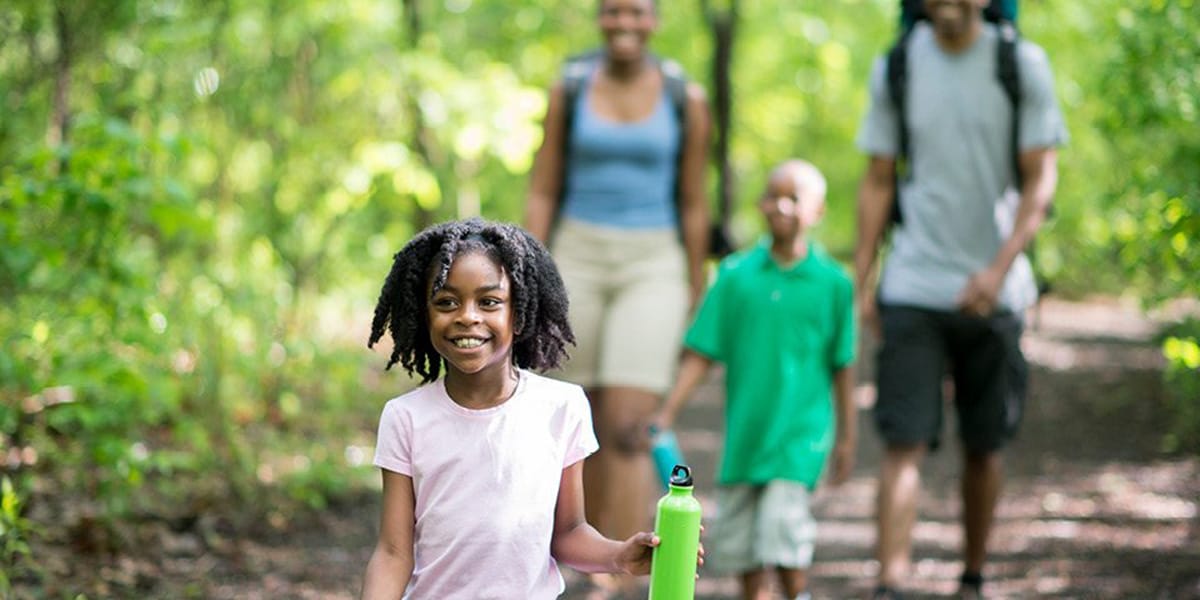 With school out, summer break is the perfect time to set fitness goals for your family. Getting enough exercise throughout the day is important for adults, but it can be even more important for growing kids and teens. Regular exercise for kids doesn't just increase physical fitness—it can also help improve thinking, memory skills, mood, healthy growth and more.1 
Of course, exercise shouldn't feel like homework for you or your kids, so make it fun! To help your family get active and stay active, try these all-ages family fitness ideas:
Make It Rewarding
If your family needs some encouragement to get started, plan a post-workout reward. The reward can be something as simple as extra screen time or a special treat like homemade popsicles. You can also plan bigger rewards for meeting weekly or monthly fitness goals, such as buying a new video game, having a movie night or enjoying a dinner out at a favorite restaurant. With the right reward, even the most reluctant family members will be excited to exercise!
Explore Local Parks
For adventurous families, exploring a local park or greenway won't even feel like exercise. Go for a casual hike or ride bikes to take your adventure even farther. The fresh air and summer sun will make it feel less like a workout and more like a mini vacation. If you live near a public beach or lake, walking the shoreline is another great way to get some exercise while feeling like you're on vacation.
Have a Field Day
You don't have to travel far to get some outdoor exercise—start in your own backyard! Have a field day with your family that includes all kinds of outdoor sports and games, such as touch football, soccer, ring toss, cornhole and more! Try making up games and activities yourself based on what you already have in your home. Make an outdoor bowling alley using just tin cans or build an obstacle course out of pool noodles.
Get Your Game On
Don't let a rainy day get in the way of your family fitness routine! There are plenty of fitness video games that will have you breaking a sweat without ever leaving your living room. A fitness game is a great way to get teens (and adults!) who normally prefer hanging out on the couch interested in exercising. 
Practice Kid-Friendly Yoga
The flexibility and fun of yoga is a natural fit for young kids, so it's easy to include them in a daily practice with the whole family. Teach them some simple kid yoga poses first, then allow them to modify those poses to suit their mood and energy level. With supervision, kids can get creative and focus more on the movement of yoga than on perfecting the poses. Meanwhile, teens and adults can have a more structured practice, following video tutorials and trying partner poses. Remember to turn on some calming music to complete the home yoga studio vibes! 
Don't Forget the Water
No matter how you decide to exercise with your family, don't forget to keep everyone hydrated! Make sure your Primo dispenser is full, take a portable dispenser with you on your hikes or add some extra zip to your sip with these infused water recipes. Keep the water flowing so your family fitness can keep on going!
1Laskowski, E. R. (2021, May 25). How Much Exercise Do Your Kids Need? Mayo Clinic. Retrieved from https://www.mayoclinic.org/healthy-lifestyle/fitness/expert-answers/kids-and-exercise/faq-20058336