Primo Water Makes Big Environmental Splash in Pan-Mass Challenge
August 6, 2018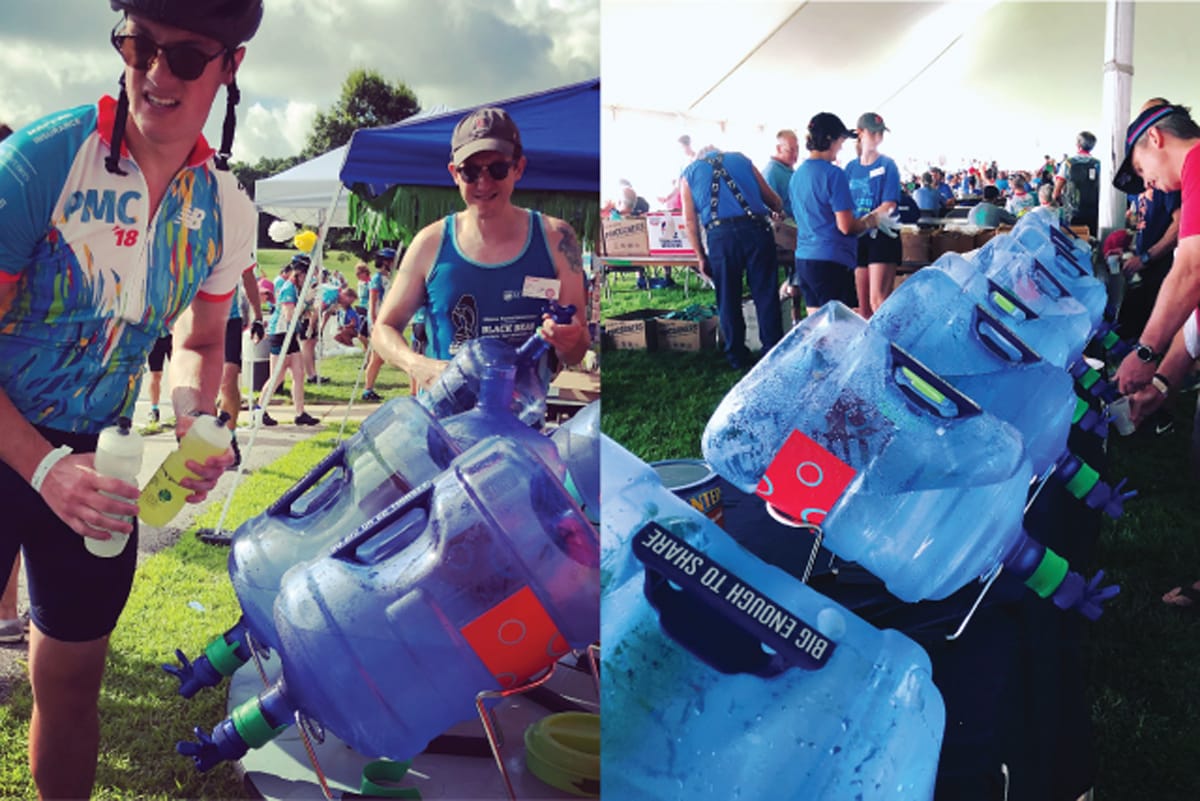 Sponsorship saves thousands of plastic bottles from landfills while supporting cancer research.
As the official water sponsor of the 2018 Pan-Mass Challenge (PMC) Primo Water is providing all of the water over the two-day, 192-mile bike-a-thon through Massachusetts on August 4-5.
"We're sending 2,600 five-gallon bottles of water to the event. If all the water is used, it will prevent the use of nearly 139,000 single-serve plastic bottles," said Primo Water President & CEO, Matt Sheehan, a Massachusetts native and event participant for the past 18 years. "I believe strongly in PMC's goal of supporting cancer research but also to eliminate the waste that single-serve plastic causes. Cycling is an environmentally friendly sport but cycling events can produce large amounts of plastic waste. That's an opportunity for Primo Water to step in."
Primo Water will be dispensed using one of Primo's many innovative water dispensers pre-ride, post-ride and at all the water stations along the route. In addition, the electrolyte drinks will be made with purified, great-tasting Primo water.
Billy Starr, PMC founder and executive director, said, "With 6,300 riders, you can imagine how many plastic bottles we go through. As our official water sponsor, we're thankful for Primo to not just provide high-quality water for our riders but set a positive example when it comes to plastic use and recycling."
Each five-gallon Primo water bottle saves 1,100 single-serve plastic bottles over its lifetime. Plastic use is at an all-time high across the globe and by 2020, it is estimated that over half a trillion plastic bottles will be sold. Plastic bottles take nearly 450 years to decompose and often end up in oceans or landfills as only 9 percent of all plastic in the United States is actually recycled.
Currently, nearly one-third of the state of Massachusetts has placed regulations on single-use plastic shopping bags. Primo is helping the state take this a step further by reusing all of the empty Primo bottles used at the PMC event. The empty bottles are returned and to go through a thorough sanitation process before reuse. This is a significant environmental impact for the New England region and specifically Massachusetts.
Primo Water's environmental commitment is not confined to the PMC. Their entire company mission is focused on inspiring healthy lives thru better water, while also helping to reduce plastic waste. Sheehan said, "I am so proud of PMC's fundraising efforts for the Dana-Farber Cancer Institute and the combination of Primo Water and PMC can have a measurable environmental impact."
About the Pan-Mass Challenge
The Pan-Mass Challenge (PMC) is a bike-a-thon that today raises more money for charity than any other single athletic fundraising event in the world. The 39th PMC will take place on August 4 and 5, 2018. The PMC was founded in 1980 by Billy Starr, who remains the event's executive director, an annual cyclist, and a fundraiser. The PMC has since raised $598 million for adult and pediatric patient care and cancer research at Dana-Farber Cancer Institute through the Jimmy Fund. The event donates 100 percent of every rider-raised dollar directly to the cause. The PMC generates more than 53 percent of the Jimmy Fund's annual revenue and is Dana-Farber's single largest contributor. The PMC has successfully melded support from committed cyclists, volunteers, corporate sponsors and individual contributors. All are essential to the PMC's goal and model: to attain maximum fundraising efficiency while increasing its annual gift. The PMC's hope and aspiration is to provide Dana-Farber's doctors and researchers with the necessary resources to discover cures for all cancers. For more information on the Pan-Mass Challenge, log onto www.pmc.org.