Find Your Spring: Regional Spring Water by Primo® Water
June 28, 2023
Did you know that the crisp taste of purely refreshing water begins at a spring near you? At Primo® Water, our family of regional brands works together to source the highest quality spring water all across the U.S. and Canada.
From the Rocky Mountains to the Gulf Coast (and everywhere in between), our 9-step purification process brings premium hydration right to your doorstep.
Regional Spring Water Brands Are a Taste of History
Just like our pure, refreshing spring water, Primo Water's brand family started from the ground up. Our 12 regional partners each represent a unique part of North America and a rich history of hydration that dates as far back as 1882.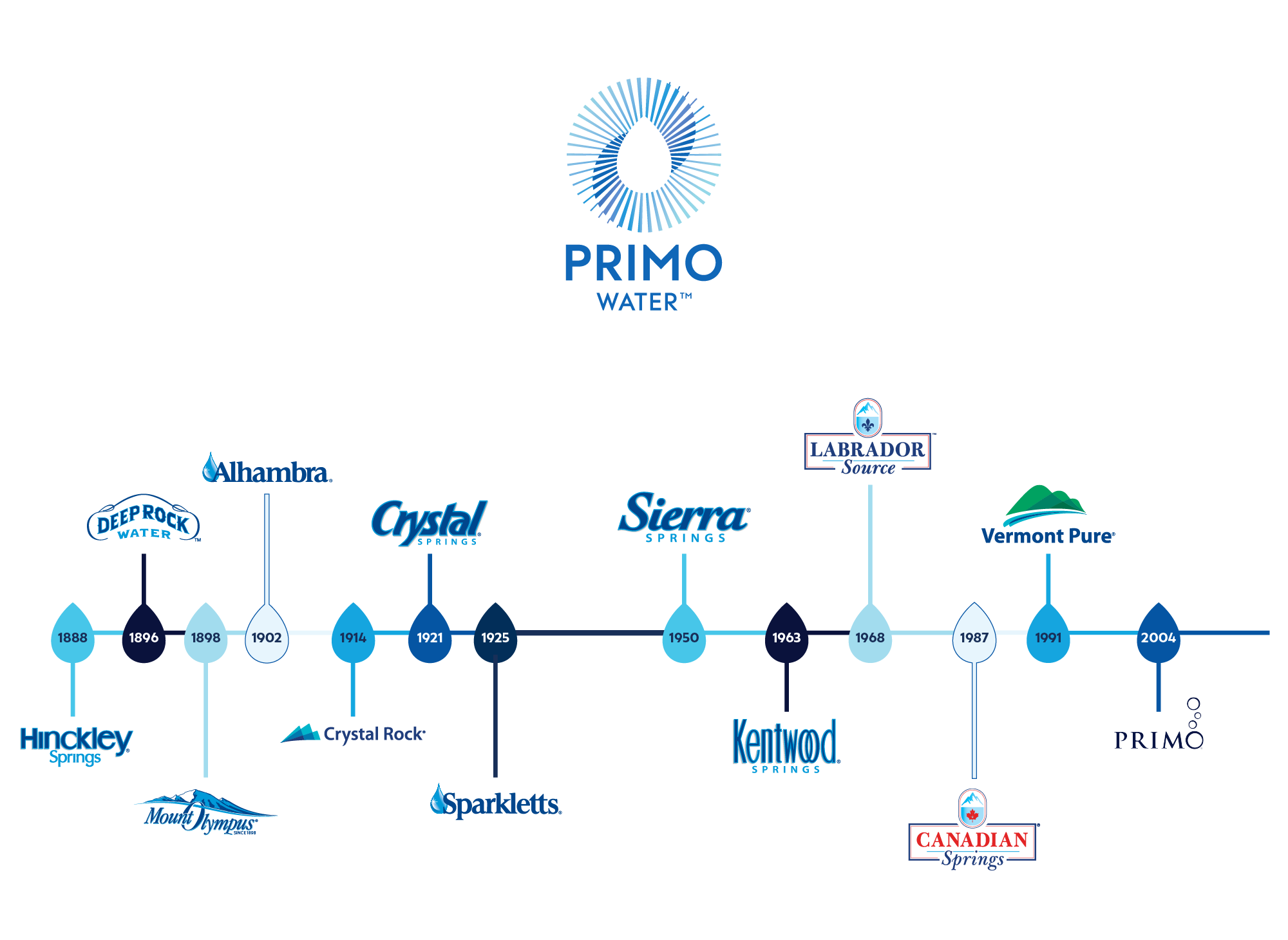 Our Regional Brands
Get to know our family of regional brands providing healthy hydration to communities throughout the U.S. and Canada.
Alhambra Water
Alhambra got its start in Martinez, California, back in 1902. As part of the Primo Water family, Alhambra now provides Northern Californians with great-tasting, premium water. Expect crystal-clear minerality straight from a protected well deep in the Sierra Nevada Mountains.
Canadian Springs Water
Canadian Springs serves several broad regions, including Ontario, Alberta, British Columbia and the Atlantic Provinces. As Canada's oldest water company (dating all the way back to 1882!), Canadian Springs is committed to providing refreshing, sustainable hydration for all.
Crystal Rock Water
Derived from the icy springs of New England, Crystal Rock has been providing communities with premium drinking water since 1914. Today, the Crystal Rock legacy lives on with convenient delivery throughout the Northeastern U.S.
Crystal Springs Water
Founded in 1912, Crystal Springs sources great-tasting spring water and delivers it to doorsteps throughout the Central and Southeastern U.S., as well as Washington State. As part of the Primo Water family of regional brands, Crystal Springs now services 10 states with healthy hydration.
Deep Rock Water
To find the best-tasting spring water, you have to look deep. Deep Rock has been bottling the spirit of adventure since 1896. Their fine artesian spring water serves communities throughout Colorado and Wyoming.
Hinckley Springs Water
Established in 1888, Hinckley Springs now celebrates its deep Midwest roots by delivering the finest natural spring water to homes and businesses across the region. What started in Chicago now covers communities across six states in the Central U.S.
Kentwood Springs Water
Named for its hometown of Kentwood, Louisiana, Kentwood Springs has been hydrating the Gulf Coast since 1963. Nowadays, families in Florida, Louisiana, Alabama and Mississippi count on Kentwood Springs for premium water delivered right to their doorsteps.
Labrador Source Water
A sister brand of Canadian Springs, Labrador Source got its start in Montreal as the Laurentian Water Company in 1882. Today, Labrador Source delivers great-tasting, crisp water throughout Quebec.
Mount Olympus Water
Naturally derived from the Wasatch Mountain Wilderness in Northern Utah, the quality of Mount Olympus spring water is evident in its taste. The history of this regional brand dates all the way back to 1898. Today, Mount Olympus proudly delivers premium water throughout Utah and Idaho.
Sierra Springs Water
The spirit of the West is alive in every bottle of Sierra Springs natural spring water. Founded in Sacramento, California, in 1950, Sierra Springs now brings premium hydration to the Southwestern U.S., including Texas and New Mexico.
Sparkletts Water
Sparkletts has come a long way since 1925. Originally confined to the Eagle Rock neighborhood of Los Angeles, Sparkletts is now a trusted source of healthy hydration in California, Nevada, Arizona, Oklahoma and Texas.
Vermont Pure Water
First bottled in 1991 in Sandwich, Massachusetts, Vermont Pure has provided families and businesses in Cape Cod and Southeastern Massachusetts with great-tasting, premium spring water.
A Spring Near You, Delivered to Your Door
Wherever you live, work and travel, our regional brands bring the great-tasting hydration of natural spring water right to you. Learn more about our premium water delivery service and get started today.
Thinking beyond spring water? Our regional brands also offer a range of other hydration options that allow you to choose the best type of water for you and your family.