Transform Your Water With These 3 Fruity Drink Recipes
July 7, 2023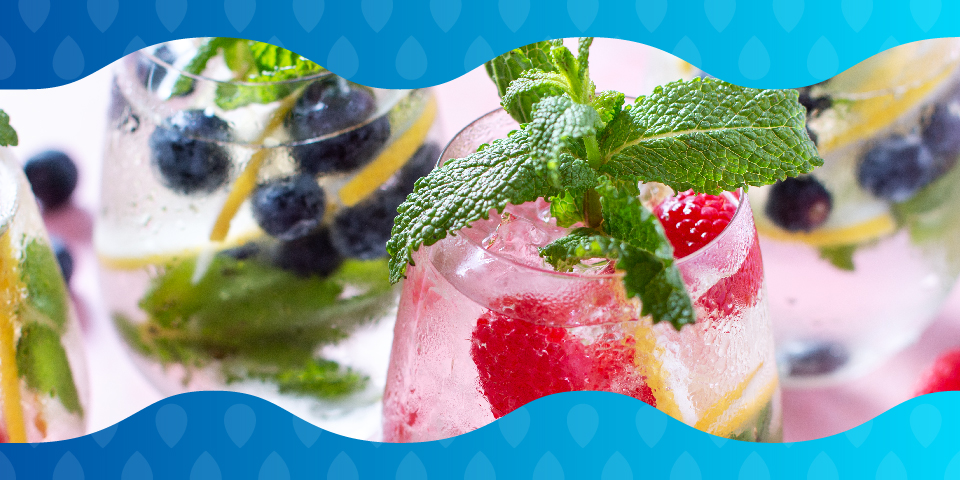 Backyard barbeques. Beachfront vacays. Front porch staycations. Wherever summer takes you, refresh all your activities with these three easy-to-make drink recipes. Not only are they healthy (just water, fruit and herbs here!), but they're also a great way to boost your hydration and gain the essential nutrients you need to feel your best this summer. Let's dive in!
Raspberry Mint Splash Recipe
Ingredients:
1 cup fresh raspberries
5-6 fresh mint leaves
Primo® Water Purified Water
Instructions:
Blend the fresh raspberries and mint leaves in a blender until you have a smooth mixture.
Strain the mixture into a pitcher to remove any seeds or pulp, or skip this step if you like a thicker drink (and want some added fiber!).
Add your Primo® Water Purified Water to the mixture until you've achieved your desired taste and consistency. Remember, you can adjust the amount of water based on your preferences!
In a pitcher or serving glass, add a few ice cubes and pour in your raspberry and mint mixture.
Finally, garnish with a few extra raspberries and mint leaves. Snap a picture of your tasty drink and enjoy!
Pro tip: If you prefer a sweeter drink, add a few drops of natural sweetener, like honey or agave.
Blueberry Basil Refresher Recipe
Ingredients:
7-8 lemons
1 pint blueberries
1 handful fresh basil (about 4-5 leaves)
4-5 cups Primo® Water Purified Water
A few blueberries and basil leaves for garnish
Instructions:
Juice your lemons in a large pitcher, taking care not to add seeds.
Combine the blueberries, a few basil leaves and a ¼ cup of water in a blender and blend until smooth.
Next, pour the blueberry mixture into the pitcher with your lemon juice. Fill it up the rest of the way with your Primo® Water Purified Water, and garnish with a few basil leaves and fresh lemon slices.
For best results, refrigerate your blueberry lemonade for about an hour before serving. Or, if you can't wait (no judgment here), simply pour some over ice and drink up!
Pro tip: To avoid contaminating the flavor of your lemonade, use ice made from purified water.
Watermelon Lime Squeeze Recipe
Ingredients:
5 cups cubed watermelon
3 tablespoons fresh-squeezed lime juice
1/2 cup fresh basil leaves
1/2 cup fresh mint leaves
1/4 cup Primo® Water Purified Water
Watermelon chunk and mint sprig for garnish
Instructions:
Add your watermelon chunks and ¼ cup of Primo® Water Purified Water to a blender and blend until smooth.
In a large bowl, add the basil and lime leaves and muddle together. (If you're not familiar with muddling, let
Martha Stewart
be your guide.) Filter out the watermelon pulp using a sieve, straining it into a large pitcher.
Add the lime juice and stir well. Refrigerate until ready to drink, or serve over ice immediately. Enjoy with family and friends!
Pro tip: If you want to get extra fancy, garnish your drink with a chunk of watermelon and fresh mint sprig.
Make it Primo® Water
Whether you're hanging with family or hosting neighbors, these refreshing drinks are sure to be a crowd-pleaser. But remember, since water is at the core of all these recipes, always use high-quality water from Primo Water for the best results!
At Primo Water, we offer a wide range of water solutions tailored to your specific needs. Convenient and easy to use, our self-service Refill stations make getting fresh, filtered drinking water simple and affordable. Simply bring your own 1 or 5 gallon bottles to a refill station near you and fill them up. For added convenience, you can pick up water while you're already at the store from our Exchange Station. Available in 3 gallon and 5 gallon pre-filled bottles, our Exchange Water is purified by reverse osmosis and has added minerals for a crisp, refreshing taste. And for a completely hassle-free experience, our reliable Delivery service brings our water directly to your doorstep. Finally, shop our wide variety of water dispensers at shop.water.com to find one that fits your lifestyle and home.