A Cleaner Take on an American Classic: Lemonade
August 13, 2019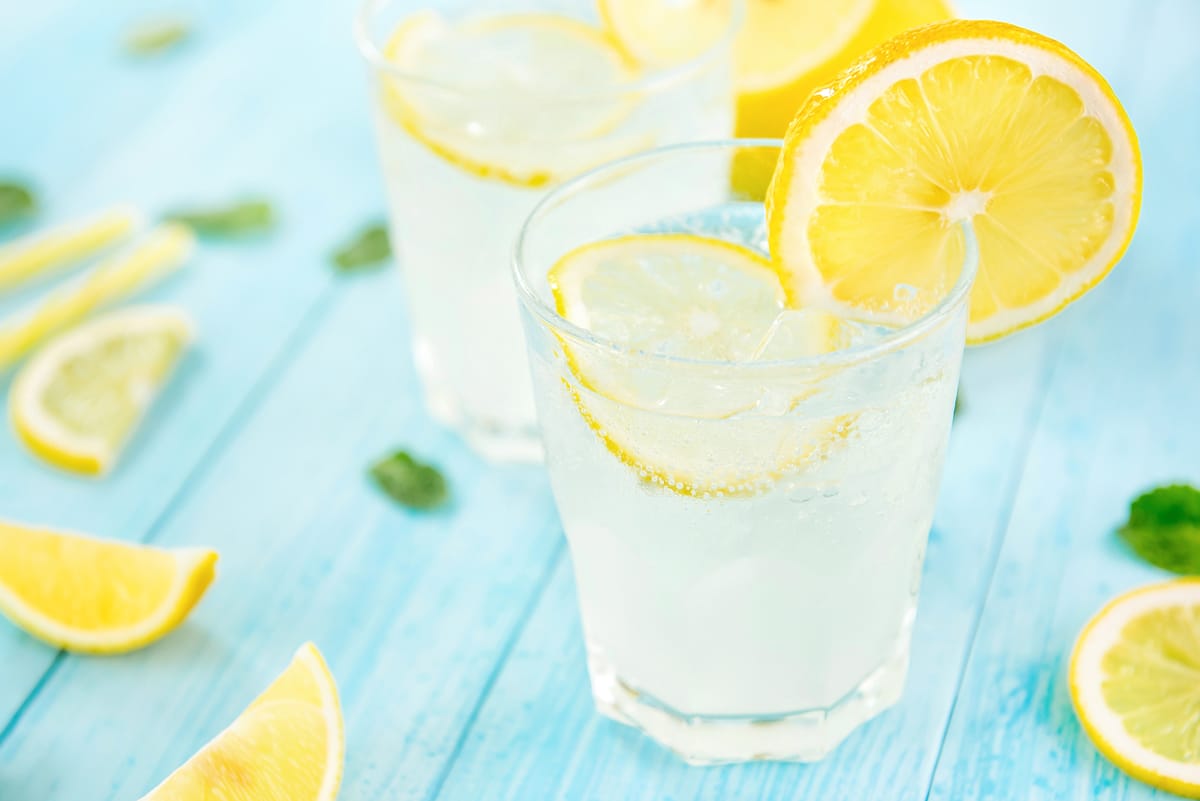 It's the quintessential summer beverage: lemonade. The same stuff we've been selling out of homemade booths our whole lives, lemonade is perfect just the way it is. Except, when you buy it from the store and it's packed full of sugar and preservatives. The call for lemonade is a simple one: water, lemons, and a touch of sweetness. But that doesn't mean it has to be unhealthy. In fact, if it's possible, it might become even more delicious than before.
THE ORIGINS OF LEMONADE
Like many timeless recipes, the origin of lemonade is hard to trace. But what we know is that lemons, a hybrid of a sour orange and citron, have been around for almost eight million years! In its first incarnation, lemonade was called kashkab, and it was a Mediterranean drink of fermented barley, mint, rue, black pepper and citron leaves. In addition, the Egyptians had small drinks of qatarmizat, which was a sweeter and tangier rendition of kashkab.
But lemonade as we know it appeared in Paris for the very first time on August 20, 1630. It was the good stuff—just sparkling water, lemon juice and honey. Parisians quickly became obsessed with the new delicious drink. So much so, that lemonade vendors formed a union! And if you didn't think that lemonade was already awesome, the lemonade craze actually helped Paris fight the black plague, too.
The first mass-produced lemonade came to life in the 1780s after Johann Schweppe developed a new, more efficient carbonation method via compression pump. After that breakthrough, Schweppes fizzy lemonade was born and nearly put street lemonade vendors out of business all across Europe. Lemonade didn't end up making it to America until the late 18th century, where it was used as an alternative to alcoholic beverages for the Prohibition Party.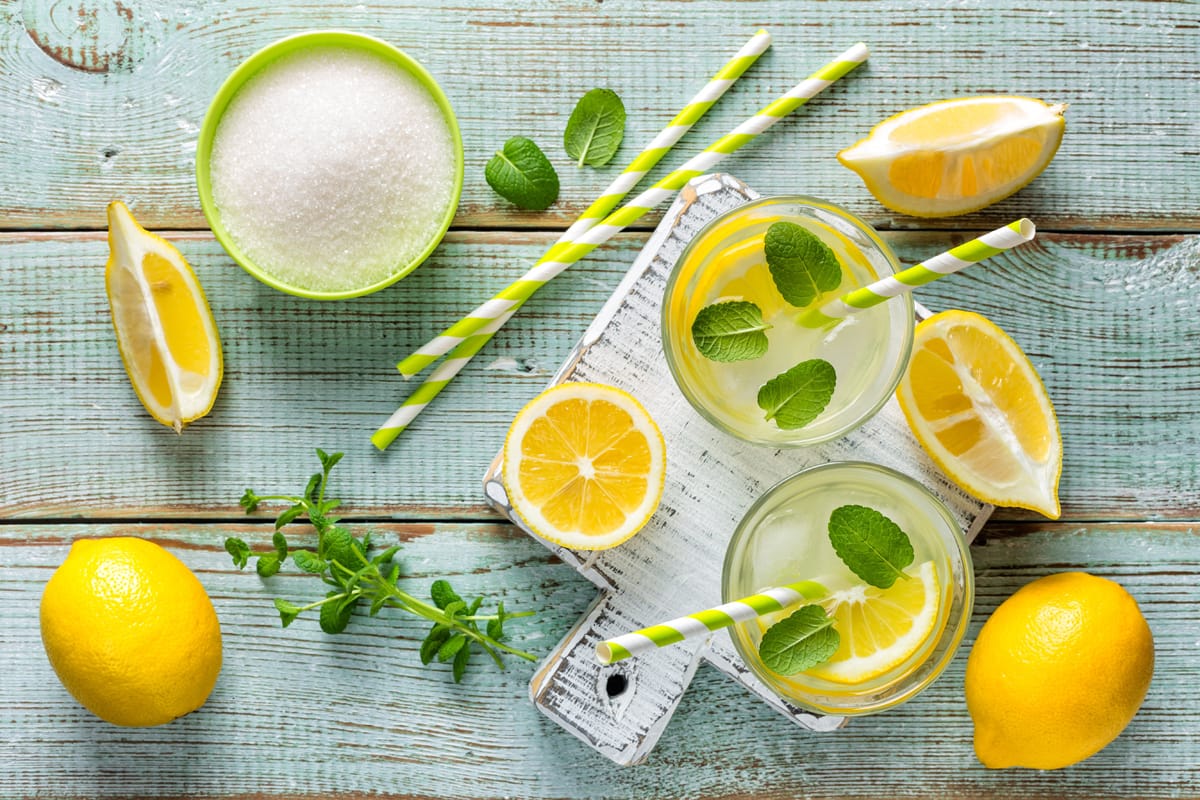 WHEN LIFE GIVES YOU LEMONS
Luckily, making lemonade is as easy as it sounds. You need water, lemons and a sweetener. We recommend using Primo® Water for your lemonade adventures because it's better and safer than regular tap water. If you're putting your lemonade over ice, make sure the ice is Primo, too! And, while we're at it, we advise against using refined sugar as a sweetener. A few of our favorite twists on this American classic add fun fruits and herbs into the mix. But first, you'll need to know how to make the classic:
CLASSIC CLEAN LEMONADE
What you'll need:
6 fresh lemons
2 cups Primo® Water
Sweetener of choice (coconut palm sugar, raw honey or pure maple syrup are the healthiest options!)
Add ½ cup water and your sweetener to a saucepan over medium heat and stir until sweetener is dissolved. Remove from heat. Juice lemons with a lemon squeezer or a juicer and add the juice to a pitcher with the rest of the water. Add the sweetener mixture and stir. Refrigerate until chilled.
Now that you know how to make the classic, let's switch it up with these fun recipes! Don't be afraid to add your own spin on these—basil, rosemary or a little bourbon might do the trick!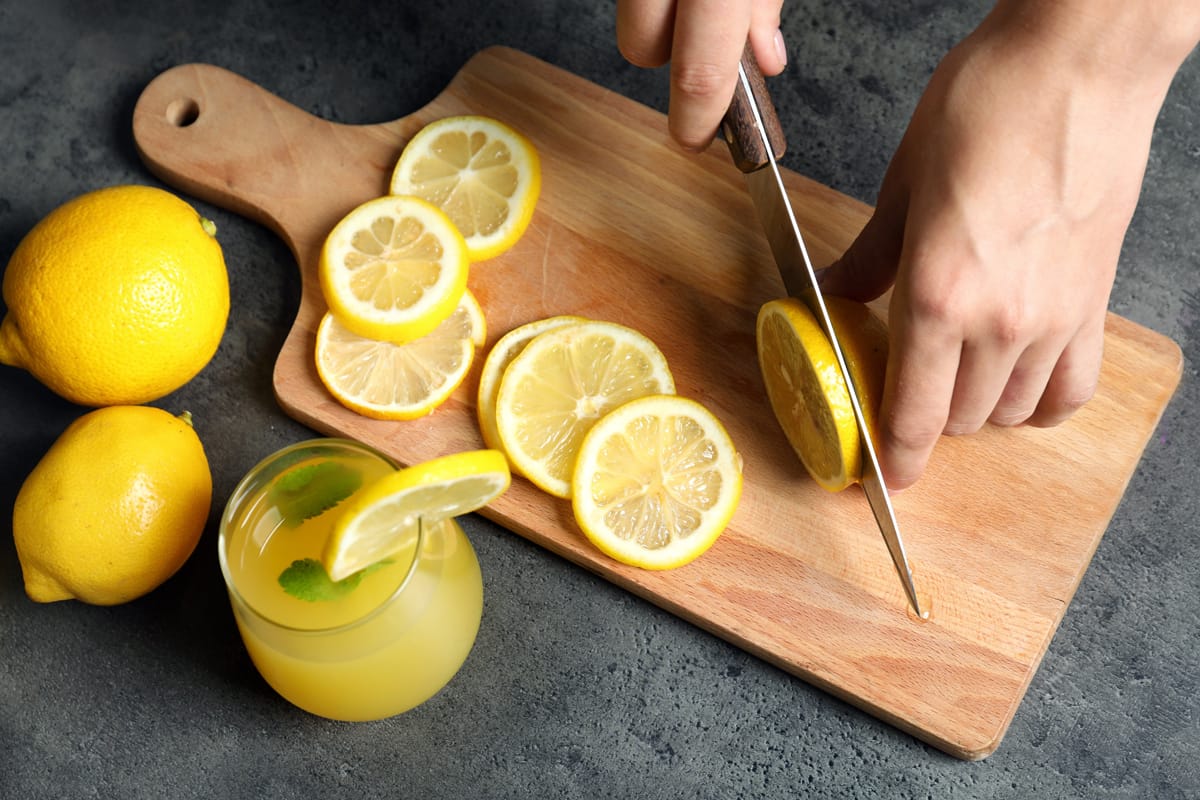 PEACH LEMONADE
What you'll need:
2 cups homemade lemonade
3 cups chopped peaches
Cook chopped peaches in a sauce pan over medium-high heat to break them down. Stir occasionally until the peaches become liquified. Strain the peaches through a fine sieve, making sure to press the peaches into the mesh with a spoon to get all the juices. Add the peach juice to the pitcher of lemonade and stir. Add ice to a glass, pour and enjoy!
JALAPEÑO LEMONADE
What you'll need:
2 cups homemade lemonade
¼ cup Primo® Water
3 jalapeño peppers (seeds removed, roughly chopped)
1 teaspoon ground cinnamon
Add jalapeños to a saucepan with water and bring to a simmer. Let cook for 10 minutes, stirring, adding in cinnamon towards the end. After 10 minutes, remove the jalapeños from the mixture. Stir the jalapeño-cinnamon water into the pitcher of lemonade. Add ice to a glass, pour and enjoy!
SPARKLING KIWI LEMONADE
2 cups homemade lemonade
8 kiwi fruits
Carbonated water (or prosecco, for the adults!)
Peel kiwi fruits and chop up the flesh into large pieces. Place in a food processor or high-speed blender and process until smooth. Strain through a fine-mesh sieve, keeping the juice but discarding the pulp. Add the kiwi juice to the homemade lemonade and stir. Add ice to a glass and pour lemonade, filling only half the glass. Top with carbonated water or prosecco and enjoy!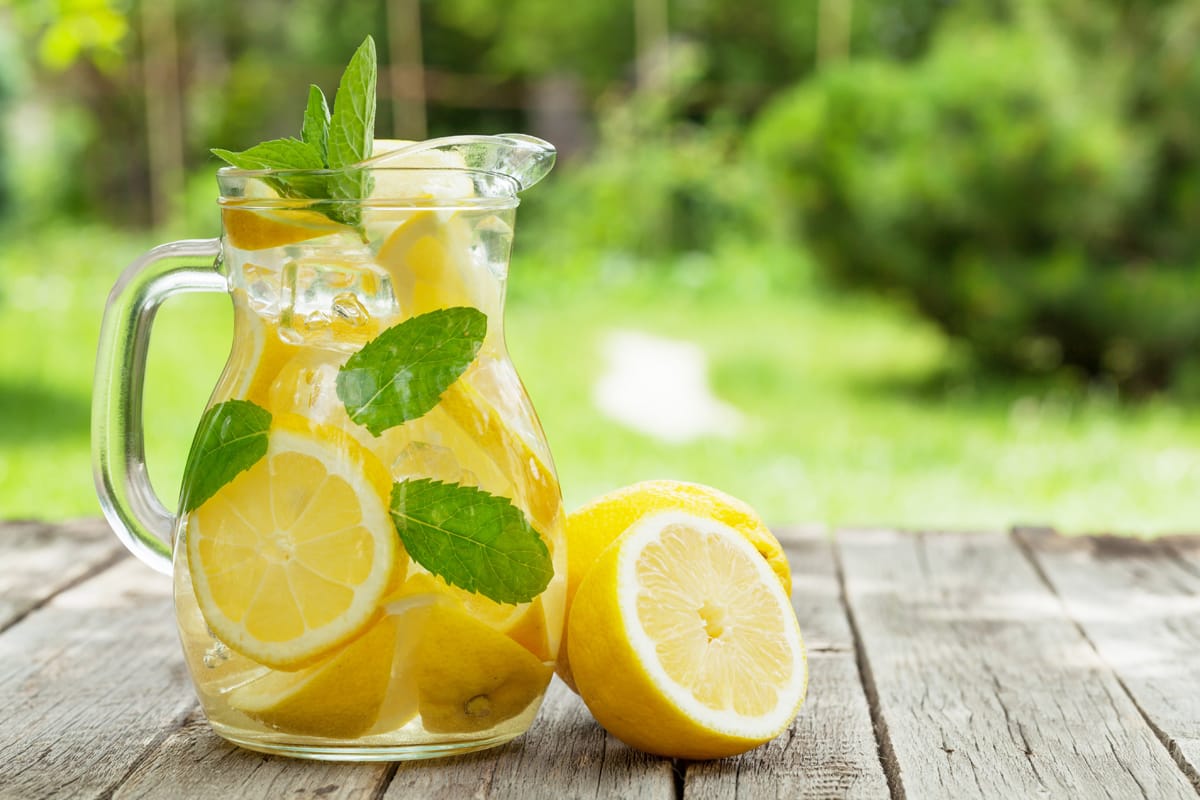 PRIMO MEETS LEMONADE
Primo® Water is the perfect choice when making your delicious lemonade. Since it undergoes a 5-step Reverse Osmosis (RO) purification process, you don't have to worry about the harmful bacteria, heavy metals, trace pharmaceuticals and more that could come from your tap. When you're trying to refresh and relax, don't just think externally—think about what you're putting into your body, too. That goes for water, ice, lemonade…the whole nine yards.
So, get creative this sweltering summer. And remember, when life gives you lemons…make better, BIGGER lemonade. Click here to find Primo near you and get started.