Brunswick County North Carolina: Water After Hurricane Florence
September 29, 2018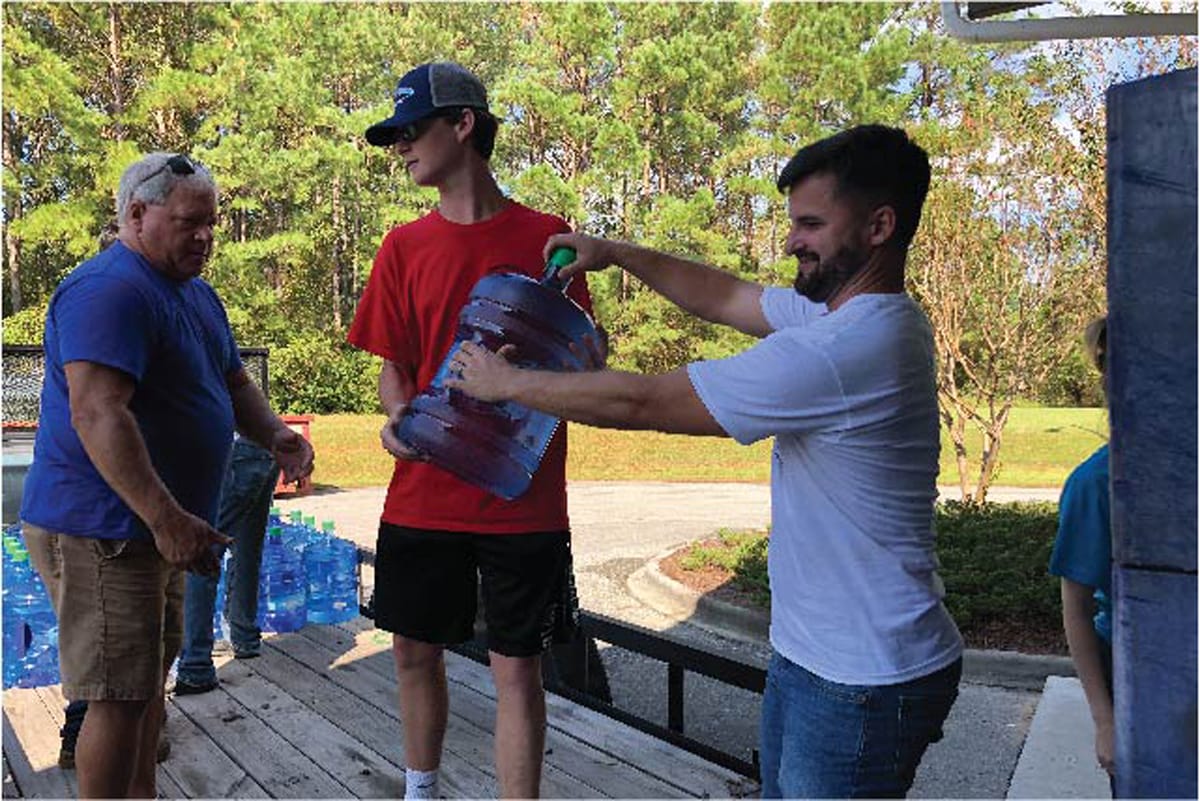 Brunswick County in North Carolina has been declared a disaster county by the U.S. Department of Agriculture and the N.C Department of Health and Human Services. As one of the hardest hit counties in North Carolina, Brunswick County is operating a Disaster Food Benefits program authorized by the Department of Social Services.
Brunswick County residents are pitching in through volunteer efforts at donation sites, distribution centers and relief delivery.
Brunswick Family Assistance is operating a donation distribution site out of the Brunswick Beacon newspaper warehouse in Shallotte, NC. The warehouse is full of products that are being loaded onto trucks and sent to relief centers.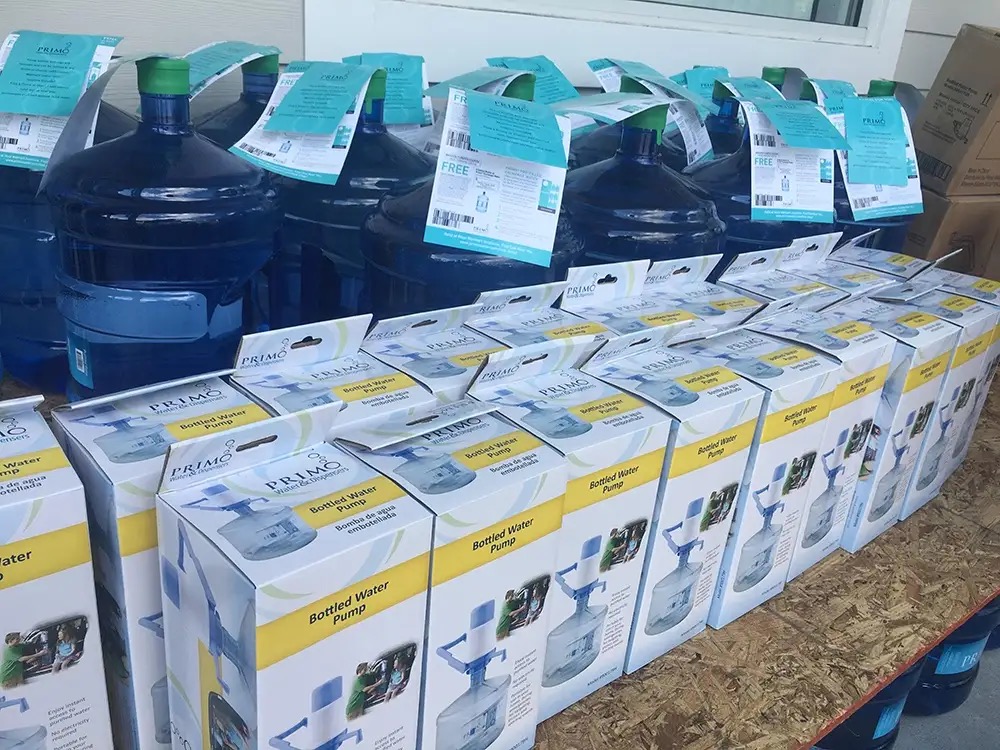 "A few weeks ago, there were dead fish laying on the highway. Most of the roads are open now but they were underwater not too long ago." said a local volunteer.
The lake in this town, a few miles from the relief center in Boiling Springs Lake, was completely drained to avoid overflow. The dam broke as a result of too much water and filled the lake with mud and downed trees.
According to the CDC, flooding can significantly damage drinking water wells and lead to the contamination of water systems. Livestock waste, human sewage, chemicals and many other potential contaminants can infect drinking water after a natural disaster, making it highly unsafe and unhealthy to drink.
Brunswick County was placed under a System Pressure Advisory, meaning that periods of low water pressure or no pressure in the water distribution system can increase the possibility for bacteria to enter the water system. Recently, this advisory has been rescinded for some areas but individuals in Brunswick County are continuing to boil their water or use bottled water to prevent consuming contaminated water from the tap.
On Wednesday, September 27, 2018, we sent a team to help with disaster relief and donations. Our team followed the path of one of these trucks and passed out 90 of the 300 five-gallon bottles sent, to residents needing water at a donation site in Boiling Springs Lake, NC.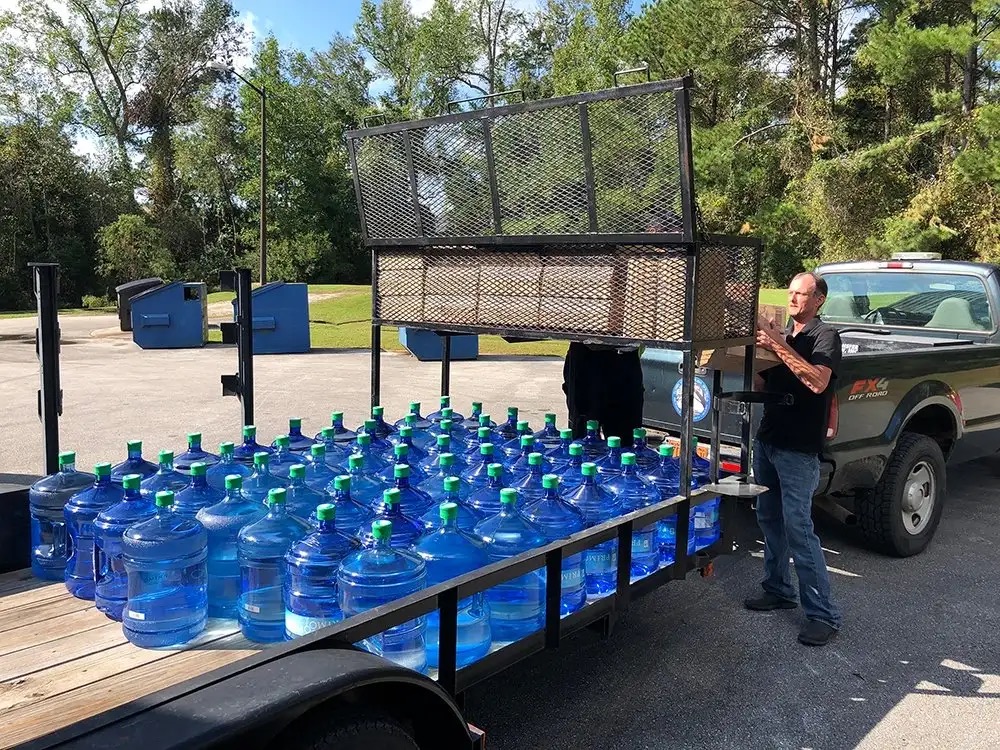 Residents of this area come to these donations sites to replace what they have lost due to Hurricane Florence and many of the residents had been without power for over a week.
Upon her arrival, one woman saw the fresh vegetables being set out for victims to take home.
"You have no idea how much I have been wanting fresh fruit and vegetables. It's been so long. I can't wait to taste a fresh tomato," she said.
Water was one of the things that people came for most often. Another woman carrying a five-gallon bottle of water back to her car said, "I won't let my kids brush their teeth with our water. I'm afraid to even shower in it but I just make it quick. I don't really feel clean after but it's all we've got."
Our team handed out Primo bottles and hand pumps to the hurricane victims. The volunteers helped load the bottles into cars and coupons for two free refills were handed out, giving victims the ability to access 15 gallons of water for free.
One of the problems residents had with using single-serve bottles to cook with is having to using so many to prepare one meal. These five-gallon bottles helped fill the need for cooking. Using the hand pump is so much easier than tipping the bottle over and pouring it into a pan or glass.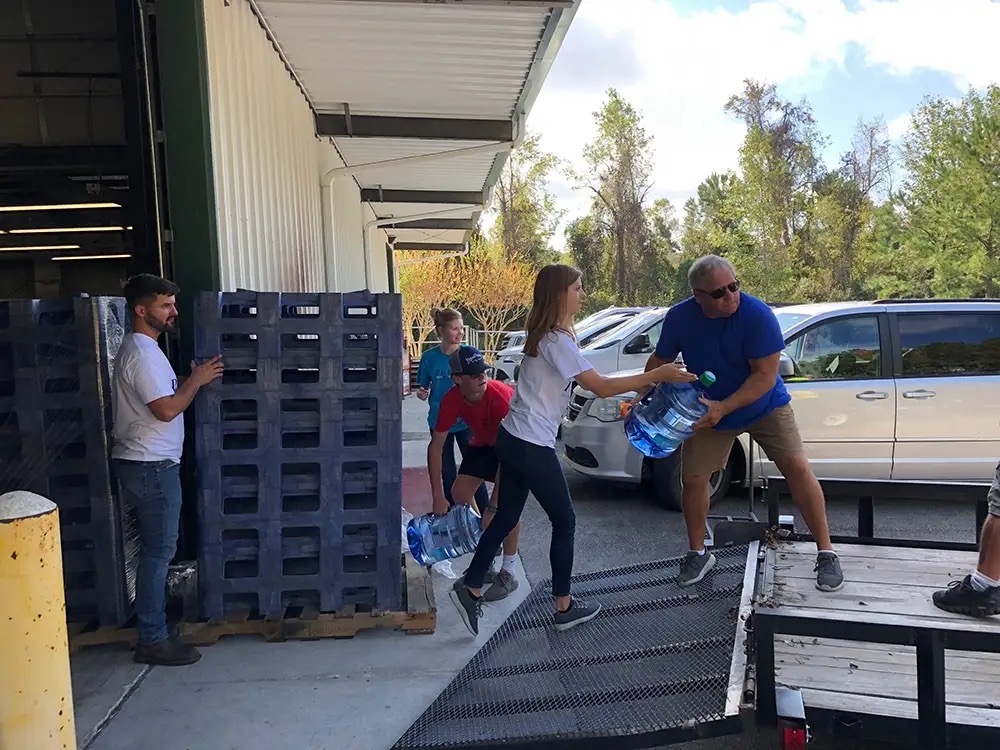 "We've been boiling our water, but it really doesn't cut it," said a couple grabbing a Primo bottle.
Brunswick County is still recovering from the storm damage and as long as people are in need, this town is giving back and coming together. As our volunteers were on the ground, they witnessed the needs of the hurricane victims.
We are thinking of the families impacted by Florence and hope that they continue to stay safe and receive the help they need. To donate to this community, visit the Brunswick Family Assistance website to send monetary gifts, food, water and more.